Do you have comments displaying on pages/posts but are unsure how to remove the "leave a comment" option?
You can change the defaults for new posts or pages on the
Settings > Discussion screen.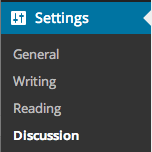 Missing Discussion Module
The edit screen on your WordPress powered website is highly customizable. You can move modules around, minimize them, or hide them completely, so this module might not always be in the same place on every blog.
By default your website will have the Discussion module hidden. You can reveal it by clicking on Screen Options on the top right, and checking the box that says Discussion.

See the Screen Options support doc for more information.
Enable/Disable Comments
To change the comment settings for a post or page you already published, first locate the post/page you want to edit on the Posts or Pages page on your site's dashboard and click on its title.
Then, locate the Discussion module on the edit screen, and either check or uncheck the options it offers:

To prevent any kind of discussion, uncheck both boxes.
To disable the ability to use the comment form, but allow comments as Pingbacks or Trackbacks from other blogs, uncheck the box that says Allow comments, and leave the other box checked.
To allow visitors to compose comments on the page but prevent responses from coming in as Pingbacks or Trackbacks from other blog, uncheck the box that says Allow Trackbacks and Pingbacks, and leave the other box checked.
Make sure to save the post after you change any comment setting.