The Jobify theme comes with a comprehensive step-by-step setup guide that will help you get the theme setup similar to the demo. To use the setup guide, follow the steps below after you've installed the theme. We highly recommend using a child theme before you begin setting up your website. Once you have that done, let's get started!
Find The Setup Guide
Go to Getting Started: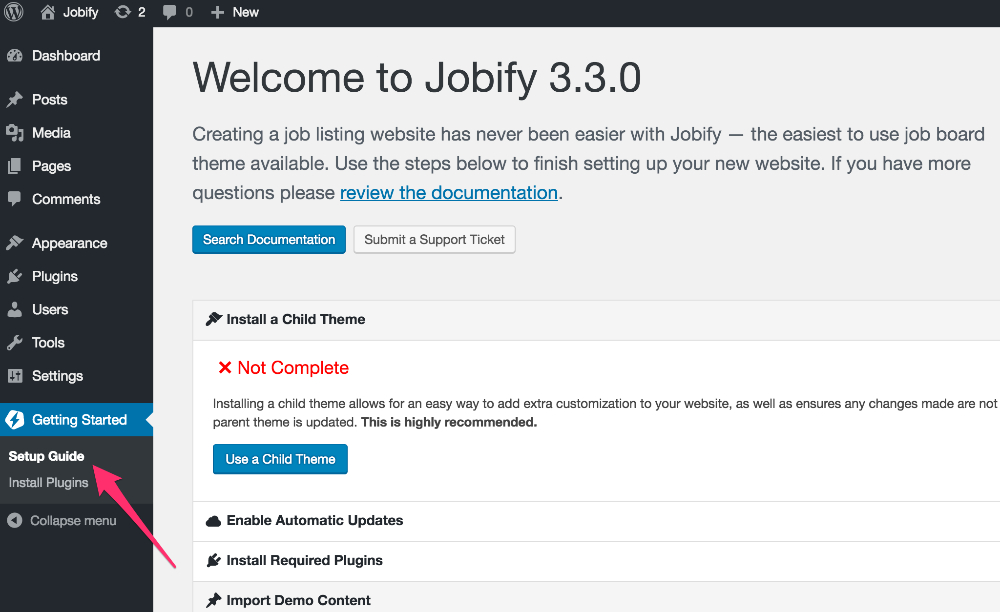 Follow The Setup Guide
Carefully go through each step of the Setup Guide until you have completed it. Make sure you follow the instructions included with each step.
More details on each step:
A few things to keep in mind while you're using the setup guide:
When going through the setup guide, you will be automatically redirected to the appropriate section of the WordPress dashboard to perform the step. However, you will not be automatically redirected back to the setup guide. Make sure you go back to the setup guide (Appearance ▸ Setup Guide) after you've finished each step.
Although this will help you get the theme setup, it will not look exactly like the theme. This is because our demo contains some premium plugins that are not included with the theme.